WATCHES AND WONDERS 2023
From 27 March until 2 April, Watches and Wonders 2023 in Geneva invited professionals and watch aficionados to discover this year's debuts.
WATCHES AND WONDERS 2022
The world's arguably most significant watch show opens its doors from 30 March to 5 April: the "Watches and Wonders" in Geneva.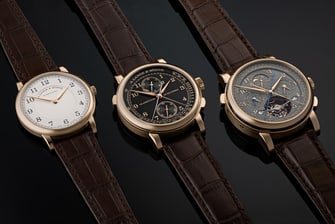 HOMAGE TO F.A. LANGE ANNIVERSARY EDITION
The three limited-edition timepieces with exclusive honey-gold cases, lavish movement decorations and exceptional dials are dedicated to this precision watchmaking pioneer.