APPRECIATE THE SUBTLE DIFFERENCES
Our ambition to never stand still is reflected by the fact that we perfect each and every watch down to the smallest detail – from design to the finissage of the parts. For instance, each movement is assembled twice, whether it is a simple three-hand watch or a timepiece with elaborate complications. It is standard practice at Lange to artisanally finish even the smallest parts or surfaces that are not visible. Often, it is these small but subtle differences that play the decisive role. This ambition also inspired the development of the debut models that we would like to acquaint you with.
ZEITWERK HONEYGOLD "Lumen"
Limited to 200 pieces, the ZEITWERK HONEYGOLD "Lumen" is an incomparable horological composition. It features a jumping numerals display with large, highly legible numerals that, as usual in a digital watch, read from left to right. Additionally, all numerals are luminous and thus easily discernible in darkness.
The semi-transparent dark sapphire-crystal glass is responsible for this phenomenon: It allows ultraviolet light to shine through to the numerals, thus charging the luminous compound with energy. As soon as the numerals appear in the display aperture, they begin to glow. The 9.2-millimetre high manufacture calibre L043.9 lies beneath this unusual dial. It consists of 462 parts and has a power reserve of 72 hours. This exclusive timepiece is paired with a case in warm shimmering honey gold.
CABARET TOURBILLON HANDWERKSKUNST
The CABARET TOURBILLON HANDWERKSKUNST is an extravagant timepiece limited to 30 pieces. It combines superb watchmaking artistry to the outermost angles of its rectangular case with elaborate craftsmanship and finishing techniques. They include semi-transparent enamelling of the white-gold dial and several manual engravings of the dial and the movement, with the lozenge chosen as the signature design element.
Measuring 22.3 by 32.6 millimetres, the form movement is composed of 370 parts, of which no fewer than 84 are integrated in the filigreed tourbillon that weighs only a quarter of a gram. The movement owes its historic significance to a tiny component that transformed it into a milestone of precision watchmaking: the first stop-seconds mechanism for the tourbillon which was presented by A. Lange & Söhne in 2008.
LANGEMATIK PERPETUAL in pink and white gold
The LANGEMATIK PERPETUAL was the first mechanical wristwatch that combined a perpetual calendar with the Lange outsize date. It differs from other calendar timepieces with small but subtle features such as the ZERO-RESET mechanism and a main corrector for simultaneously advancing all calendar displays. On its 20th anniversary, it is now available in white and pink gold with a blue dial, limited to 50 pieces each.
SAXONIA THIN in pink gold
The latest version of the SAXONIA THIN in pink gold features a dial that is faced with a very thin layer of blue gold flux. Thousands of copper oxide crystals embedded in the material enliven the deep blue by reflecting the incident light and adding copper-coloured glimmer. They cause the dial of the two-hand watch – limited to 50 pieces – to sparkle like a starry sky. A shiny dark blue leather strap with a solid pink-gold prong buckle rounds out the noble appearance of the watch.
LANGE 1 PERPETUAL CALENDAR
The LANGE 1 PERPETUAL CALENDAR is a timepiece for connoisseurs who appreciate the subtle differences. The self-winding watch is fully focused on its eponymous complication: Apart from the typical Lange outsize date, a retrograde day-of-the-week display and a leap-year indication, the watch features a peripheral month ring and a moon-phase display that also shows whether it is day or night.
The newly developed model with a case diameter of 41.9 millimetres is available in pink gold with a grey dial made of silver or – in a limited edition of 150 watches – in white gold with a solid pink-gold dial.
LITTLE LANGE 1 MOON PHASE in white gold
THE LITTLE LANGE 1 MOON PHASE is a mechanical, sublimely designed gem within the collection. In comparison with the LANGE 1 MOON PHASE, its diameter is 1.7 millimetres smaller; it is available in two new versions with a dark-blue gold-flux dial on which countless tiny stars appear to be twinkling. In the second version, a bezel set with 56 brilliant-cut diamonds creates a radiant frame for this fascinating dial. A shiny leather strap and a white-gold buckle complement the elegant appearance of the watch.
TRIPLE SPLIT in pink gold
The TRIPLE SPLIT is the only mechanical watch capable of measuring comparative and lap times with durations of up to twelve hours. For example, it can stop any number of lap times to an accuracy of one-sixth of a second in multi-hour events such as marathons, regattas, or vintage car races. The white-gold edition presented in 2018 is now followed by a second version – also in a 100-watch limited edition – in pink gold with a blue dial and rhodié-coloured subsidiary dials.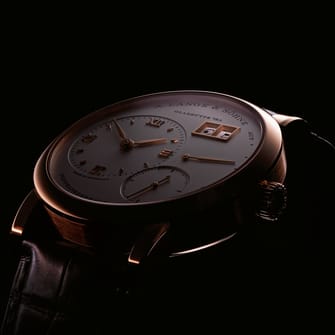 EXCLUSIVE INSIGHTS INTO THE WORLD OF FINE WATCHMAKING
Experience A. Lange & Söhne's fascinating heritage, unique stories and exquisite timepieces by subscribing to our newsletter.