In addition to this year's 175th anniversary of the precision watchmaking legacy founded by Ferdinand Adolph Lange in Glashütte, A. Lange & Söhne is celebrating another milestone on 7 December: 30 years have elapsed since the manufactory was revived by Walter Lange. On that date in December, new versions of the SAXONIA OUTSIZE DATE and of the SAXONIA THIN will be introduced as well. Due to their classic elegance and harmonious design, the three mechanical works of art from Saxony are suited not only as companions for festive occasions but also as a gift for a highly esteemed person.
TRANSITION TO A NEW ERA
As of 1990, with the support of Günter Blümlein, Walter Lange significantly contributed to the revival of precision watchmaking in Saxony. When asked what characterises an A. Lange & Söhne watch, he said: "It was important to us from the very beginning to develop decidedly modern timepieces with sleek, classic looks." On 7 December 1990, Walter Lange registered Lange Uhren GmbH to re-establish the tradition of his ancestors in Glashütte after a forced hiatus of over 40 years. The first collection of wristwatches presented in 1994 included the SAXONIA. Since then, the SAXONIA watch family has grown continuously and meanwhile consists of twelve models, including our manufactory's thinnest watch, the SAXONIA THIN.
SAXONIA THIN
The SAXONIA THIN expresses our passion for watchmaking artistry in special ways. The new version of the SAXONIA THIN, limited to 50 watches in white gold, stands out with an extraordinary dial that is coated with black gold flux and – as if permeated with glowing sparks – shines with a copper-tinted gleam. This rare black gold flux version is a premiere in an A. Lange & Söhne watch. It follows a SAXONIA THIN presented in 2018 that was graced with a blue gold-flux dial. A shiny black leather strap with a prong buckle in 18-carat white gold accentuates the distinctiveness of the timepiece. With a case diameter of 40 millimetres, the two-hand watch is merely 6.2 millimetres high. The manually wound calibre L093.1 is 2.9 millimetres high, the manufactory's thinnest movement so far.
SAXONIA OUTSIZE DATE
An articulate design vocabulary and mechanical ingenuity are the hallmarks of the SAXONIA OUTSIZE DATE. The two previous versions with black dials are now complemented by two models in 18-carat white and pink gold with argenté-coloured dials. The Lange outsize date and the small seconds in a symmetric arrangement emphasise the prominent looks of this watch that combines technical finesse and formal harmony with superb Saxon artisanship. This is underscored by the self-winding manufacture calibre L086.8 which is assembled twice.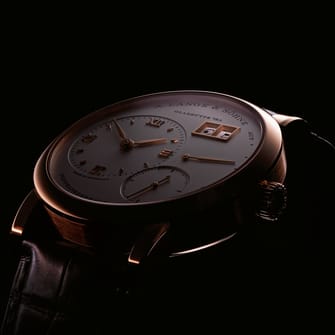 EXCLUSIVE INSIGHTS INTO THE WORLD OF FINE WATCHMAKING
Experience A. Lange & Söhne's fascinating heritage, unique stories and exquisite timepieces by subscribing to our newsletter.