TIME FOR APPRECIATION
HOW THE DAYS AT THE END OF THE YEAR BECOME SPECIAL
At the end of the year, we take a extended break with deep breaths and leave the everyday hustle behind us. In such instances, we realize what really counts in life: the moments we share with family and friends and the time we take for ourselves. Taking time for ourselves expresses appreciation for people who are important for us and to whom we gladly gift our time. Because sharing our time with them comes straight from the heart. And because we know that life on earth has an ending. So if time is the biggest gift, our watches are the most appealing way to express appreciation, respect, and affection. For each timepiece, our watchmakers invest ample time to craft them with skill and true passion.
For the development and production of an A. Lange & Söhne watch, our specialists spend weeks and months of hard work so that you can enjoy your timepiece for a lifetime. How the LANGE 1 MOON PHASE evokes your enthusiasm around the clock: With a moon-phase display that depicts day and night and thanks to the astronomically accurate calibre, it only deviates by one day every 122.6 years. The same precision also characterises the SAXONIA MOON PHASE. With its classic complications – the moon-phase display and the Lange outsize date – it stands out very elegantly with a design vocabulary reduced to the essence. Conversely, the appearance of the ZEITWERK STRIKING TIME is eloquent and avant-gardist. The precisely jumping numerals display shows the time in a digital format while the strikework accompanies the passage of time with high- and low-pitched tones. And with its perpetual calendar, the LANGEMATIK PERPETUAL delivers absolute precision until 2100. Up to the next turn of the century, the LANGEMATIK PERPETUAL correctly displays the date – even in leap years.
THE ART OF GIFTING SOMETHING SPECIAL
ELABORATELY HAND-CRAFTED GIFTS FOR PEOPLE WHO ARE SPECIAL
A gift is more than merely a present given to someone. It is a statement. A token of appreciation which attempts to express something that we often can't express in words: Our feelings, our affection and our love for people who touch our hearts. That is why a special gift goes straight to the heart. It is overwhelming, leaves the recipient speechless – and constitutes a lifelong memory of how deep the affection is. Elaborate and artistically designed gifts move us all the more. Be they paintings, jewellery, or exquisite watches. Thus, each hand-crafted A. Lange & Söhne watch, assembled twice, is a work of art that exists only once – for people who are unique. These people are family members, friends, and of course us. Because esteem and gifts not only please our peers, they also touch our own hearts.
Further ideas for special gifts also await you at our boutiques. The staff there will competently and thoroughly familiarise you with A. Lange & Söhne timepieces. In a pleasant atmosphere, you can leave the everyday hubbub outside and take your time to admire the masterpieces made in our manufactory. We look forward to your visit!
Apart from our boutique staff, everyone else at A. Lange & Söhne wishes you and your loved ones a festive timeout, an exciting transition into the new year as well as a happy and healthy 2022! Enjoy your time.
FIND LANGE BOUTIQUE AND RETAILERS
Holding our timepieces in your hands is always a memorable experience and a unique opportunity to feel their high quality. Please contact us in advance so that we can check the availability of the timepieces you require.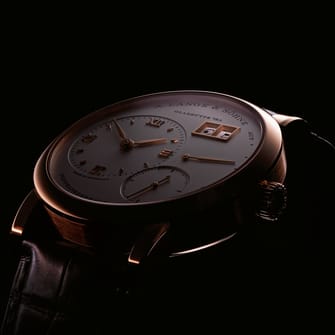 EXCLUSIVE INSIGHTS INTO THE WORLD OF FINE WATCHMAKING
Experience A. Lange & Söhne's fascinating heritage, unique stories and exquisite timepieces by subscribing to our newsletter.