The A. Lange & Söhne outsize date enables a date display with digits around three times as large as those in watches of comparable dimensions.
A LARGE DISPLAY IN A COMPACT SPACE
With the outsize date, Lange succeeded for the first time in integrating a date display of this format in a wristwatch. The date is indicated in a gold frame with numerals that are about three times larger than those in watches of comparable dimensions. This innovation not only makes the date much more legible, it also simplifies the setting process because the date is not adjusted with the crown as is customary. Instead, it can be conveniently advanced day by day with a rapid-correction pusher.
THIS IS HOW THE OUTSIZE DATE WORKS
The outsize date consists of two separate display elements: the units disc and the tens cross. They revolve one above the other with a clearance of only 0.15 millimetres, which requires extreme dexterity during assembly. To correctly reproduce the date sequence, the disc and the cross must advance at irregular intervals. The ring-shaped units disc switches once a day, except at the transition from the 31st of a month to the 1st of the next month: then, it stands still for a day. The tens cross advances by one increment every 10 days. However, when the "3" is displayed, the cross advances after the 2nd day, because the "3" is needed only to display the 30th and the 31st of a month. To enable this irregular switching sequence, each display element is controlled by a programme wheel whose special toothing pattern assures that the date is advanced correctly.
1 Tens cross
2 Units disc
3 Base plate
4 Programme wheel of the units disc
5 Programme wheel of the tens cross
A DISC AND A CROSS
The programme wheel of the tens cross has four teeth. Two of them are close together so that the cross switches from the "3" to the blank field after only two days.
To make sure the "1" is displayed for two days at the transition from the 31st to the 1st day, two teeth were omitted in the programme wheel of the units disc.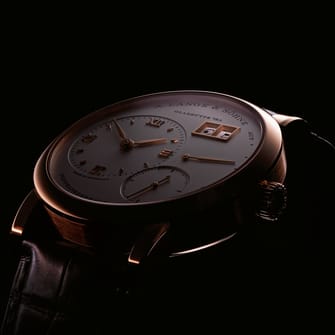 EXCLUSIVE INSIGHTS INTO THE WORLD OF FINE WATCHMAKING
Experience A. Lange & Söhne's fascinating heritage, unique stories and exquisite timepieces by subscribing to our newsletter.