GERMAN WATCHMAKING ARTISTRY MEETS THE MOST ATTRACTIVE VINTAGE CARS
There are more shared facets between mechanical watches and classic automobiles than most people realise. The joint passion lies in the freedom of expression, independence and the precious nature of time itself. Precision and innovation are also aspects that automobiles and watches have in common. This year's automobile events – the Concorso d'Eleganza Villa d'Este and the Concours of Elegance Hampton Court Palace – give us the opportunity to emphasise the mechanical elegance that characterises our movements. Beyond that, we want to enable encounters with the people who craft our timepieces – our watchmakers.
CONCORSO D'ELEGANZA VILLA D'ESTE – AN EXCLUSIVE EXPERIENCE
From 20 to 22 May this year, we are celebrating the 10th anniversary of our partnership with the Concorso d'Eleganza Villa d'Este. This historic automotive event against the backdrop of Lake Como in the magnificent parks of the Villa d'Este invites connoisseurs from all over the world to discover classic cars. We are not only delighted with this special milestone but, as always, also treasure the personal encounters with watch enthusiasts and vintage car fans.
The event offers the perfect setting for highlighting the mechanical achievements that make our timepieces so unique. Our guests can schedule a personal meeting with one of our watchmakers to discover the elaborate mechanical elements and the complications in our watches. Also, a finishing process will be demonstrated live: the polishing of a gold chaton.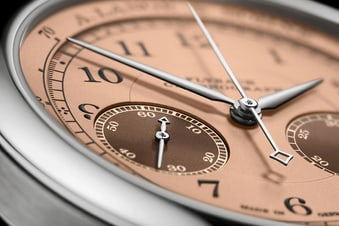 THE WINNER'S WATCH
"A classic car is much more than just a means of transport. The more we are absorbed by its transmission, body and history, the stronger our personal rapport with the vehicle. The same applies to a Lange watch that we do not wear simply to know what time it is," says Wilhelm Schmid, CEO of A. Lange & Söhne.
Artisanship, aesthetic appeal, a sense of history and heritage and the quest for perfection are what link classic cars with classic watches. These shared values are also expressed by the winner's watch, the 1815 CHRONOGRAPH in white gold with a solid pink-gold dial and a hand-engraved hinged cuvette. This timepiece, crafted explicitly for the winner in the "Best of Show" category, is personally handed over by Wilhelm Schmid at the award ceremony on the last day of the event.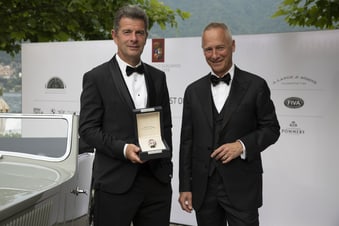 THE AWARD CEREMONY
One of the highlights of the classic automobile competition was the presentation of the winning watch by Lange CEO Wilhelm Schmid to Andrew Pisker. The winner was the favourite of the jury and the audience with his Bugatti 57 S from the year 1937 and was visibly delighted with the specially made model of the 1815 CHRONOGRAPH.
The prize, donated by A. Lange & Söhne, is intended as recognition for the time and effort the owner has invested in preserving his automotive work of art for posterity.