VISIONARY CRAFTSMANSHIP
Perfection, endurance and a vision for the yet unknown ‒ these are some of the parallels between the German manufacture A. Lange & Söhne and the world of classic cars. In 2023, for the first time, A. Lange & Söhne will be partnering with one of the most important annual events within the American collectible and classic automotive community, at the Audrain Newport Concours d'Elegance.
Driven by a shared passion for unique craftsmanship, this partnership honours purposeful innovation, meticulous preservation, and, last but certainly not least, those who repeatedly venture into uncharted territories in the name of mechanical ingenuity.
FORGING NEW FRONTIERS
Venturing into unknown territories demands vigour: it beckons one to think differently and to dare to challenge the status quo. Redrawing boundaries and pushing innovation is what leads to timeless classics ‒ timepieces and cars alike.
VISIT AN A. LANGE & SÖHNE BOUTIQUE
Our experts are looking forward to personally welcome you and introduce you to our world of precision watchmaking.
DRIVEN BY PRECISION
Noticeable in the intricate movements of a chronograph, similar to the finely tuned engines of classic automobiles, the pursuit of precision marks our shared devotion to the highest standards.
Through our partnership with Audrain Newport Concours d'Elegance, we are entering into a community of likeminded enthusiasts to jointly celebrate inspiring masterpieces and technical sophistication.
DISTINCTLY CRAFTED
The creation of a classic design requires a delicate balance between curiosity, restraint and ingenuity. The cars presented at the Audrain are a testament to timeless, enduring design ‒ a parallel with A. Lange & Söhne timepieces.
Just like the automobiles taking home the coveted Best of Show award at the Audrain Newport Concours d'Elegance, every A. Lange & Söhne timepiece is determinedly and carefully crafted to stand the test of time.
AUDRAIN NEWPORT CONCOURS D'ELEGANCE
Newport, Rhode Island has a rich and esteemed automotive history dating back to 1900, where the first American Circuit race, the Vanderbilt Cup, laid the foundation for American racing culture. Newport's latest chapter in cultivating appreciation of and fascination for motorsport features the Audrain Newport Concours and Motor Week, an award-winning addition to the global classic car community.
With more than a decade of involvement with the world's most prestigious concours events and a strong passion for heritage, A. Lange & Söhne is proud to be the presenting sponsor of the 2023 Audrain Newport Concours d'Elegance.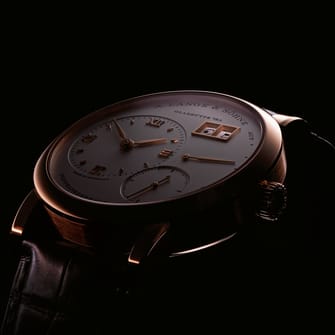 EXCLUSIVE INSIGHTS INTO THE WORLD OF FINE WATCHMAKING
Experience A. Lange & Söhne's fascinating heritage, unique stories and exquisite timepieces by subscribing to our newsletter.