MECHANICAL MASTERPIECES IN A ROYAL AMBIENCE
Once again, aficionados of mechanical masterpieces will come together in the grounds of Hampton Court Palace near London between 1 and 3 September. The old-timer event ‒ highly esteemed by those who know ‒ pays homage to the centenary of the famous 24 Hours of Le Mans race and showcases extraordinary racing cars of the last century.
VINTAGE CARS AND MECHANICAL TIMEPIECES SIDE BY SIDE IN A ROYAL AMBIENCE
Those who appreciate classic cars don't drive them just to get to their destination ‒ but to make every trip a special event. Not unsimilar to mechanical watches, which precisely display the time, yet represent infinitely more. That is the common denominator of our timepieces and the historical vehicles presented at the Concours of Elegance at Hampton Court Palace.
The estimation of traditional artisanship as well as the desire for preservation play a significant role with regard to the motorised masterpieces as well as to our timepieces.
The fascination of timeless design and superb engineering unites aficionados of watches and automobiles alike at this spectacular event.
This year, the focal point of our attendance will be the artisanship of our engravers. One of them will be present to manually engrave balance cocks ‒ as is customary in our manufacture. The personal handwriting of the engraver, the depth of the cut and the sweep of the lines make every engraving into a unique fingerprint. A fingerprint that, in turn, makes every timepiece one of a kind.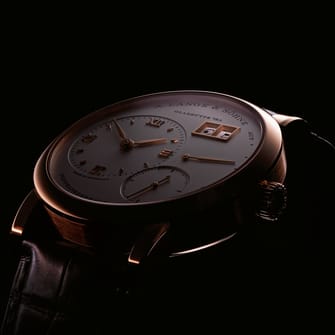 EXCLUSIVE INSIGHTS INTO THE WORLD OF FINE WATCHMAKING
Experience A. Lange & Söhne's fascinating heritage, unique stories and exquisite timepieces by subscribing to our newsletter.