The art of enameling has been around for about 3,500 years. Augustus the Strong, the Elector of Saxony, was a devotee of the technique. His court jeweler, Johann Melchior Dinglinger, created precious pieces in enamel, which are today on show in the Green Vault in Dresden's Castle.
Enameling was also very frequently used to make the dials for pocket watches. These days, there are very few experts skilled in this highly complicated process, so that enameled dials are very rarely found in wristwatches.
The process of making an enameled dial takes several days, during which the different steps have to be repeated again and again. The greatest challenge: absolute cleanliness, to prevent the inclusion of the smallest particle of dust or dirt, which would mar the smoothness of the structure. "Enamel is capricious, and can't be hurried," Lange's enamel experts explain.
PREPARATION OF THE ENAMEL
First of all, the basic raw material, a special kind of glass, is reduced to microscopic fragments by rubbing and crushing in a mortar, so that it can then be sieved or applied wet with a brush.
TREATMENT OF THE BACK
Counter-enamel is applied to the back of the dial. This is necessary to prevent distortion of the enamel on the dial side through excessive stresses.
FILLING INTERSTICES
Small interstices between letters and figures are filled with enamel using a fine brush.
SIEVING
The fine enamel powder is spread evenly over the dial with a sieve. The piece is then fired briefly at a temperature of several hundred degrees in a special kiln. These steps may be repeated several times.
FIRING AND COOLING
After each firing, the dial is cooled slowly on a fireproof support. Only when the dial has been completely dried and cleaned can the sieving operation be repeated. This process takes several days.
METAMORPHOSIS
The more enamel layers are applied, the darker the final surface appears. Thus, the blue shimmering enamel particles turn into the black dial eventually.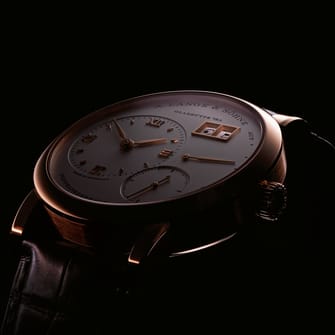 EXCLUSIVE INSIGHTS INTO THE WORLD OF FINE WATCHMAKING
Experience A. Lange & Söhne's fascinating heritage, unique stories and exquisite timepieces by subscribing to our newsletter.