In all eras and in every discipline, mankind can take credit for extraordinary accomplishments. This holds true for the fine arts, for music and for watchmaking as well. Among them are works of horological art that have survived their epoch and are displayed today in significant public and private collections. Quite a few of them bear the "A. Lange & Söhne" signature. Because only very few of these timepieces were made, sometimes only one, they are indeed priceless collectors' items of everlasting value. Since the presentation of the first new-era collection in 1994, A. Lange & Söhne has again crafted works of horological art in strictly limited editions.
The TOURBILLON "Pour le Mérite"
The TOURBILLON "Pour le Mérite" was Lange's first new-era tourbillon watch. It showcases a technical feature never before implemented in a wristwatch this way: the going train drive via fusée-and-chain transmission.
Lange dedicated this unique testimony of watchmaking prowess to Ferdinand Adolph Lange, the founder of the dynasty, by naming it after the most prestigious German order of merit for outstanding accomplishments in natural sciences.
The TOURBILLON "Pour le Mérite", produced between 1994 and 1998, was limited to 150 in yellow gold and 50 in platinum.
LANGE 1A
In the 19th century, the designation "1A" was used by A. Lange & Söhne to identify watches crafted from the very finest materials and finished to the highest degree of perfection. In 1998, Lange presented the LANGE 1A as a reminiscence of this heritage.
It has a solid-gold lever and escape wheel, a solid-gold pallet cock, escape-wheel cock, and balance cock, as well as a solid-gold guilloched dial. Additionally, this masterpiece features all of the refinements that make the LANGE 1 such a precious watch.
In 1998 and 1999, the LANGE 1A was crafted in a limited edition of 100 pieces in yellow gold.
1815 MOONPHASE
On the occasion of Emil Lange's 150th birthday in 1999 and to pay tribute to his horological accomplishments, his watchmaking descendants crafted this masterpiece as a symbolic monument in his honour. The moon-phase display is so precise that it only needs to be corrected by one day every 1058 years.
The 1815 MOON PHASE was built in 1999 and 2000. The edition was limited to 250 pink-gold and 150 platinum models.
LANGE 1 TOURBILLON
With this mechanical opus, Lange continued the manufacture's tradition of welcoming a new century with a stunning horological milestone. Introduced in 2000, it is the world's first wristwatch with a gravity-compensating tourbillon, outsize date display, twin mainspring barrel for three days power reserve, and power-reserve indicator.
The LANGE 1 TOURBILLON was produced between 2000 and 2003. The edition was limited to 250 pink-gold and 150 platinum watches.
ANNIVERSARY LANGEMATIK
The ten-year anniversary of the new establishment of the manufacture was reason enough for Lange to recollect past values. In 2000, the manufacture presented a LANGEMATIK with an artistically designed enamel dial. Seemingly minor details such as the separately imprinted and separately stoved red numeral XII underscore Lange's dedication to historic authenticity.
The ANNIVERSARY LANGEMATIK in platinum was a limited edition of 500 watches crafted from 2000 until 2004.
EDITION "Homage to F. A. Lange"
The year 2010 marked the 165th anniversary of Ferdinand Adolph Lange's move to Glashütte, where he established a watch manufacture with initially 15 apprentices. With a special collection of extraordinary complications, A. Lange & Söhne honours his spiritual heritage as the founder of German precision watchmaking.
The trilogy, consisting of the TOURBOGRAPH "Pour le Mérite", the LANGE 1 TOURBILLON "Homage to F. A. Lange" and the 1815 MOON PHASE "Homage to F. A. Lange", melds the family's horological tradition with contemporary inventiveness and sublime craftsmanship. The collection also premières a gold alloy of unprecedented hardness with a new hue: 18-carat HONEYGOLD.
All three models are limited editions and were manufactured from 2010 until 2011.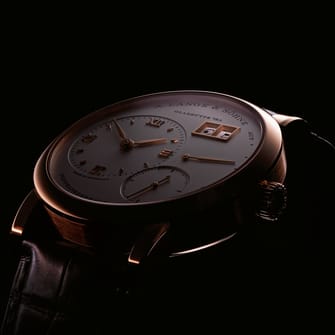 EXCLUSIVE INSIGHTS INTO THE WORLD OF FINE WATCHMAKING
Experience A. Lange & Söhne's fascinating heritage, unique stories and exquisite timepieces by subscribing to our newsletter.