A KEY COMPONENT OF THE A. LANGE & SÖHNE PHILOSOPHY
Every timepiece that bears the A. Lange & Söhne logo showcases a manufacture movement produced in-house. To date, an impressive number of 71 calibres have been introduced since the re-establishment of A. Lange & Söhne in 1990. Every single one, be it puristic or endowed with complications, is assembled twice with the utmost precision and elaborately finished by our watchmakers in Glashütte.
Because we perceive the watch to be a total work of art, we set our own benchmark, thus demanding far more than the mere assembly of the movement in our manufactory: it embodies the exclusive high-precision artisanship reflected in every single incorporated part.
WHAT SETS MANUFACTURE MOVEMENTS APART?
In the watchmaking world, one particular quality feature promises a high level of exclusivity: movements manufactured in-house. This serves as a guarantee that the incorporated movements were developed and assembled in the proprietary manufactory.
The development of a new movement requires stupendous effort. A specialised team of designers, engineers, prototype engineers and laboratory technicians usually have to invest several years of work to be able to present a perfectly running mechanism. For this reason, certain development and production steps are often outsourced and ready-made movements purchased externally ‒ even in the luxury watch industry. While this enables easier and quicker production, it also limits the possibilities of creating especially individual and distinctive watch models.
That is why we cut our own path. Walter Lange and Günter Blümlein already had a clear vision of A. Lange & Söhne watches and the corresponding movements when they re-established the manufactory ‒ in line with our ambition to build timepieces that are among the best in the world. Our timepieces constitute sophisticated evolutions in the realm of traditional precision watchmaking; when developing new models, we fundamentally challenge established conventions. Only by taking this path, can we break new ground and build high-end watches that are one of a kind. Without fail, A. Lange & Söhne watches are therefore solely equipped with movements made in-house.
A. LANGE & SÖHNE EXCLUSIVELY USES PROPRIETARY MANUFACTURE MOVEMENTS
There is no generally accepted or protected definition of the term "manufacture movement". Derived from Latin, the term "manufacture" primarily refers to an item "made by hand", underlining that it is the exact opposite of an industrial, largely machine-executed production procedure.
At A. Lange & Söhne, we generally define a proprietary manufacture movement as a movement that was developed by our calibre engineers, crafted in our manufactory – as well as finished and assembled twice by our watchmakers.
TAKING MATTERS ONE STEP FURTHER: FROM MANUFACTURE MOVEMENTS TO PRECISION WATCHMAKING
An A. Lange & Söhne in-house movement is easily identified at a glance; firstly, thanks to the elaborate finissage of all incorporated parts: those, which are clearly visible through the sapphire-crystal caseback, and even those components within the movement that are hidden from view, are manually finished.
Secondly, the perfect movement proportions are a distinguishing feature. Size and shape always harmonise with the case. The distinctive beauty of our movements is a result of our in-depth discussions ‒ starting as early as during the construction phase ‒ on not only technical but also aesthetic issues.
Hallmarks shared by every one of our 71 calibres include gold chatons, blued screws, decorated and polished surfaces as well as hand-engraved balance cocks. Every single watch model is assembled twice.
Since 2003, the balance springs for our movements have also been manufactured in-house – a highly complicated procedure that only few other manufactories have mastered.
GROUND-BREAKING MANUFACTURE MOVEMENTS
Several ground-breaking calibres can be found among the 71 A. Lange & Söhne manufacture movements: in particular, in the DATOGRAPH and ZEITWERK models as well as in the DOUBLE SPLIT and the TRIPLE SPLIT.
In 1999, history was written with the DATOGRAPH, the first A. Lange & Söhne chronograph movement following the re-establishment of the manufactory. To date, it is still regarded as the benchmark in chronograph construction by connoisseurs.
In 2004, the DOUBLE SPLIT was launched and in 2018, the TRIPLE SPLIT – further prominent milestones in our chronology of chronographs. Both models allowed measurements of intermediate and comparative times beyond a period of 60 seconds for the first time.
The ZEITWERK, in turn, revolutionised the world of mechanical watches with its patented digital jumping numerals display for hours and minutes. In the past, our manufactory movements were – and to this day, still are – the key to continuously and sustainably evolving precision watchmaking. They allow us to challenge conventions and build watches that are unique.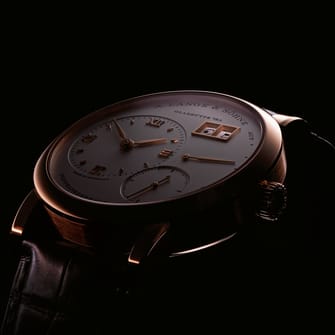 EXCLUSIVE INSIGHTS INTO THE WORLD OF FINE WATCHMAKING
Experience A. Lange & Söhne's fascinating heritage, unique stories and exquisite timepieces by subscribing to our newsletter.