After F. A. Lange had established his manufactory on 7 December 1845, he embarked on a systematic quest to improve the design of calibres. One technical aspect of his era's pocket watch movements bothered him most: Usually, all of their bearings and wheels were configured beneath separate bridges and cocks. During the assembly process, the watchmaker had to painstakingly jockey them and their respective wheels into the right positions relative to one another. It was a tiresome endeavour based on the principle of trial and error. This is because as soon as the alignment of a single cock was changed, all the others had to be checked and possibly reoriented as well. Additionally, cocks were known to migrate slightly in the course of time so that watches frequently had to be readjusted.
For F. A. Lange, this was not an acceptable solution. His goal was reliably manufacturable timepieces of long-lasting quality. For this reason, he developed an upper plate that accommodated all the pivots of the most important wheels. The positions of the individual bearings were now fixed. His new approach significantly accelerated the assembly process, although particular skill was needed to simultaneously "steer" all arbors into their bores on the underside of the plate. During a period of nearly 20 years, Lange kept refining the design of this plate. It grew in several consecutive steps until, in 1864, it covered three quarters of the movement. Only the balance cock with the oscillation system remained exposed. Then, its definitive shape was finally defined: The three-quarter plate was born.
THE THREE-QUARTER PLATE TODAY
After 1990, the three-quarter plate was reintroduced as a typical hallmark of A. Lange & Söhne timepieces. With advanced milling and wire-EDM machines, it can be manufactured with supreme accuracy and tolerances expressed in thousandths of a millimetre. It is made of untreated German silver, an alloy containing copper, nickel and zinc, traditionally used by Lange for all frame parts. The material is characterised by high stability and resistance to corrosion. In the course of time, it takes on a protective, gold-yellow patina and does not require any electrolytic anti-corrosive coating.
Decorated with Glashütte ribbing, it sets a perfect stage for the thermally blued screws that secure the gold chatons in which the ruby-red bearing jewels are embedded. Thus, each three-quarter plate pays tribute to the founder of the Saxon precision watchmaking industry.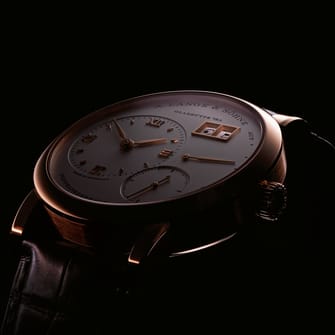 EXCLUSIVE INSIGHTS INTO THE WORLD OF FINE WATCHMAKING
Experience A. Lange & Söhne's fascinating heritage, unique stories and exquisite timepieces by subscribing to our newsletter.